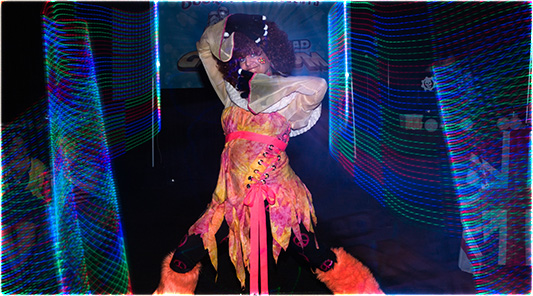 Kids Need to Read Geek Prom
Sponsored by Bookmans
Hosted by Phoenix Comicon
Friday, June 6, 2014
9:00 PM

–

Midnight
Phoenix Comicon
Sheraton Phoenix Downtown Hotel
Valley of the Sun Ballroom
Phoenix, AZ

Purchase Tickets
Don't miss the annual Kids Need to Read Geek Prom, sponsored by Bookmans Entertainment Exchange and hosted by Phoenix Comicon. An entire ballroom is devoted to the KNTR Geek Prom, enabling throngs of Geekanoids to attend this quirky soiree.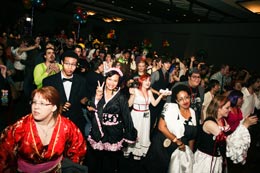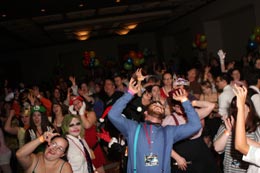 Due to the Geekerosity of our Geektabulous friends at Bookmans, all proceeds benefit Kids Need to Read, a foundation that does not discriminate against Geeks, Dweebs, or Nerds. This is the Big Bang Party! Expect Geektastic music and dancing, tons of prizes, retro gaming-themed decorations and photo set, Geek balloonist, Geek face painting, Geek caricatures, Fashion Geektacular, and crowning of the 2014 KNTR Geek Highnesses.
The theme for Geek Prom 2014 is Retro Gaming. Dress in your Geeky best and enter the Fashion Geektacular to vie for the titles of Geek King, Geek Queen, Geek Prince, and Geek Princess! Any appropriate Geek attire may be modeled during the Fashion Geektacular, including the themes of CLASSIC GEEK (dweeb, nerd, etc.), CONTEMPORARY GEEK (superhero, video game character, etc.), or RETRO GAMING GEEK (Legend of Zelda, Pac-Man, Super Mario Bros., Space Invaders, etc.). The Royal Geek Highnesses are serenaded to Geeks of America each year by Geekariffic performer Steven Riley. Fashion Geektacular judging will take place at the far end of the lobby outside the ballroom from 8:30 PM–11:00 PM. Contestants will participate in a final strut on the catwalk during the prom, followed by the crowning of the winners as the 2014 Geek Highnesses.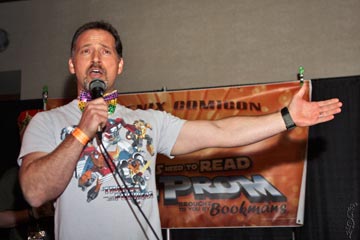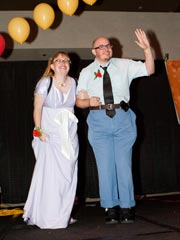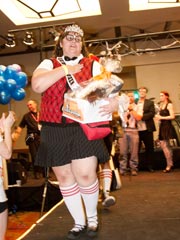 Have your stylin' photo taken under the Geeknificent edifice renowned in all of Geekdom as the Geek Arch.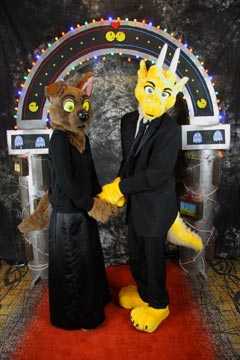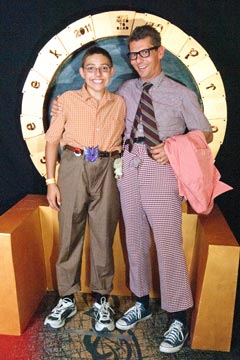 The finest of Geekola will be played for your auditory and dancing pleasure. Geeky dancing is the norm, so no need to worry about emulating John Travolta . . . unless Travolta-emulating is your heart's desire. Anything goes at the KNTR Geek Prom, except bullying, which will get you tossed out of the Geeky Gates!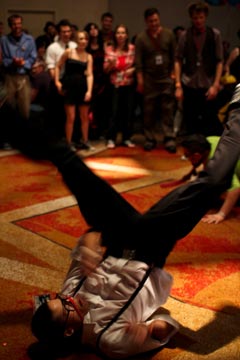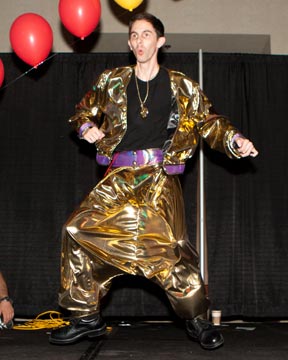 Geeksages, Geekonnieres, Geek Blinkies, and Ray Guns will be available for a small donation at the KNTR booth and at the door, while quantities last. Dress code is Geek casual or formal—real Geeks won't even need a costume!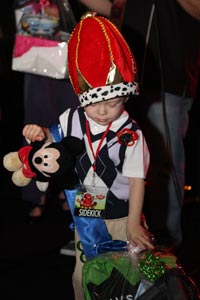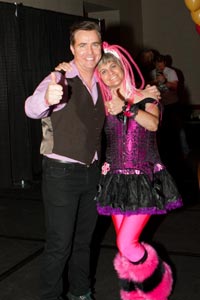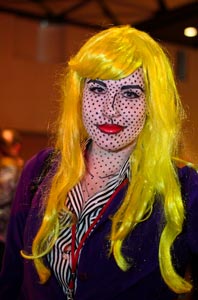 Come celebrate the Glory of Geek at this don't miss Geek Gala, only at the inimitable Phoenix Comicon!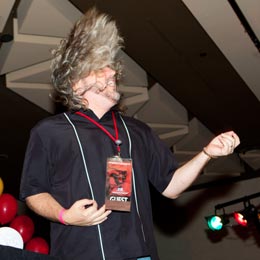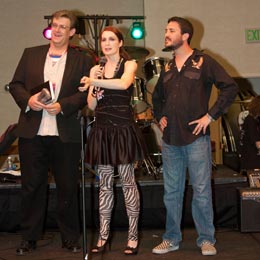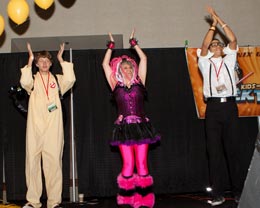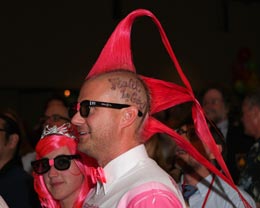 ---
Ticketing Information for Kids Need to Read Geek Prom 2014
Only 1,200 tickets will be offered for the Geek Prom and are now on sale at the Phoenix Comicon website. They are only $15 each when purchased prior to the convention. Ticket price will be $20 each if purchased during the convention at the Kids Need to Read booth. Due to the generosity of our supremely Geektacular sponsor, Bookmans, your ticket will include a photo op underneath the glorious new Geek Arch at no extra charge! One free photo op per ticket holder; image files will be available on Flickr after the convention. Your ticket will have a unique barcode that you will redeem at the door of the Geek Prom. Geek Prom tickets may be purchased at a different time than Phoenix Comicon memberships, but you must have a Phoenix Comicon membership to attend the Geek Prom. Cash bar. No separate beer garden this year! YAY! Rated PG-13. Do not miss out on the Friday Night Big Event of Phoenix Comicon!
Twitter Feed: #KNTRGeekProm
Presenting Sponsor
Bookmans Entertainment Exchange
Hosting Sponsor
Prize Sponsors
Bookmans Entertainment Exchange
Hero Comics and Gaming (Phoenix)
Inari's Whimsy
Newins Access Auto Insurance
Pop Culture Paradise Comics and Games (Tempe)
PromShoes.com

Geek Crowns Sponsor
Geek Arch Creators
Costumer for Denise Gary
Hosts
Denise Gary—Kids Need to Read
Gus Matos—Arizona Avengers
Deejay
Michael Dougherty—Big Damn Films
Featured Artists
Blushing Peach Art (Geek Face Painting)
Steven Riley (Geek Caricatures)
The Geek Balloonist (Geek Balloon Creations)
Fashion Geektacular Director of Judging
Wendy Trakes—Arizona Browncoats
Fashion Geektacular Judges
Rachel Ashley—Arizona Avengers
Jeremy Brundage Owen—Author, Illustrator
Pete Rivera—Justice League Arizona
Charlotte Woodward—Project Hero
Fashion Geektacular Announcer
Peter Steigerwald—Aspen Comics
Fashion Geektacular Geektress of Coronation
Crooner: Geeks of America
Steven Riley—Author, Illustrator
Geek Arch Photographer
Eric Fiallos—Bald Pirate Photography
Candid Photographers
Bruce Matsunaga—Kids Need to Read, Bruce Matsunaga.com
Robert Gary—Kids Need to Read, RMG Imaging Artists
---
---
KNTR Geek Prom Photo Galleries
---
KNTR Geek Prom Blogs
---
Shaking it Up at the Kids Need to Read Geek Prom
Hosting the Kids Need to Read Geek Prom at Phoenix Comicon involves lots of joyful geek dancing! Thank you to Project D for creating this fun surprise!
---
2012 Videos
---
2011 Videos
---
2010 Videos