Return to KNTR HIKRZ Jamboree Page
The Haarsma-thon
Kids Need to Read HIKRZ Jamboree
Presented by GoDaddy.com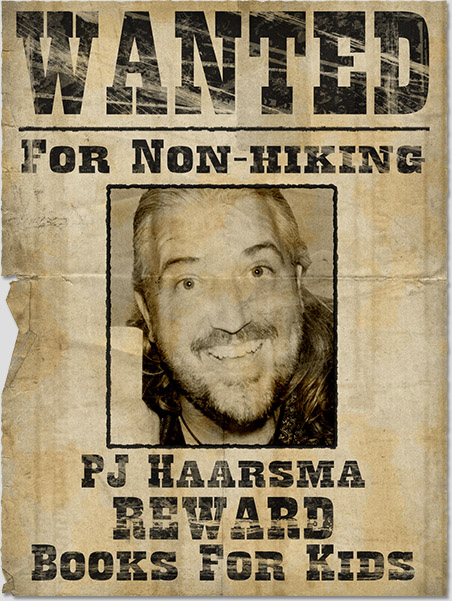 This man does not hike!
Until the Kids Need to Read HIKRZ Jamboree, that is! Although it is against his nature, our founder PJ Haarsma has agreed to hike at the Jamboree, so that KNTR can provide more books for kids. He believes he is hiking the flat, one mile Merkle Loop Trail; however, we have other plans for him — the four mile Wind Cave Trail! Yes, up to the top of the mountain for PJ!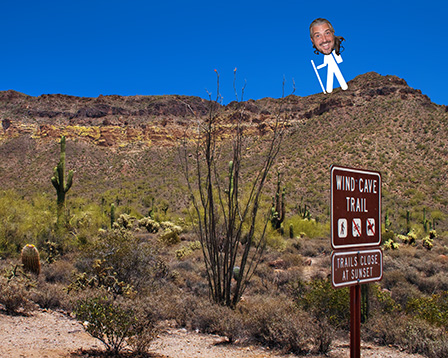 Will the longsuffering author make it to Wind Cave?

You can join in the fun by pledging for PJ's trudging. Your encouraging contributions will benefit Kids Need to Read, so let's get PJ away from his writing chair.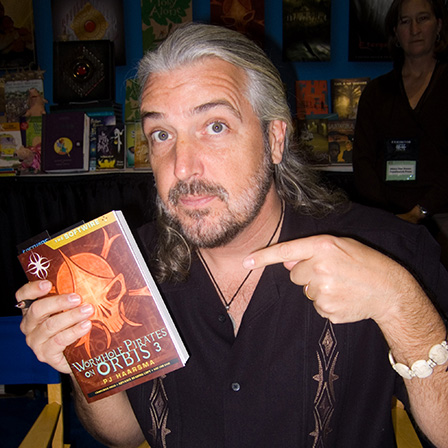 Name
Pledge
Per Mile
Fixed
Pledge
Comments for PJ
K. Zadina
$25.00
Good Luck, PJ!! Hope the weather cools down by the 6th and if not, take plenty of water.
Jane0904
$20.00
A long journey starts with just one step . . . or in your case, a hike! Think of it as a walk in the park . . . just up hill. . . .
Melissa Johnson
$10.00
Piece of cake!
Sykotyk
$5.00
Get her done big guy.
zucookie
$20.00
Enjoy yourself no matter what.
Anonymous
$10.00
Go, PJ, go! I believe in you! You'll show that mountain who's boss! Bless you for all the good you do for others!
Vista Academy LOVES PJ!
$30.00
Good luck PJ! We believe in you – and we know you can do anything you put your mind to.
Colleen (MB1)
$10.00
Remember . . . channel "The Little Engine That Could" story, and you'll do just fine. :) Good luck and thanks for doing this to help end childhood illiteracy!
anonymous
$50.00
Go PJ go!! I know you can do it!!
Honey
$10.00
Just think of it as a manly man's nature walk. Take your time; enjoy the scenery. I wish I could take that walk with you. It sounds fun.
Charlie Viosca
$25.00
anonymous
$50.00
Paula
$20.00
You know you can do it, I know you can do it, it'll be a piece of cake!
Rachel Robertson
$20.00
Sheelagh Semper (AB Browncoats)
$20.00
All the best on the hike PJ. Remember to drink LOTS of water along the way. And wear sensible shoes [mommy lecture].
Dawn Russo
$10.00
Remember it is for the kids.
Jennifer Rayment
$10.00
You can do it!
Brian and Jenney O'Callaghan
$50.00
Reach down, grab a hold, and take that mountain PJ!
Mr. Dave
$20.00
See PJ hike. Hike, PJ hike. The mountain is tall. PJ will hike to the top. PJ is tired. (Thanks for making a hiking adventure mean something more than "PJ is tired.")
heidi2524
$50.00
It's okay to pause during the hike "for water" or "to admire the view" or to sketch or to read or even to write – just be careful where you sit. :) Thanks for doing this, and you're welcome to come hike in Texas anytime.
Francesca Romero
$50.00
You'll make it to the top! :)
Wendy Scott
$20.00
Rather you than me, sweetie – have a fun time though. Wish I could be there to witness.
Bethany
$10.00
I won't stop making fun of you if Tom Leveen out-hikes you. That's a promise. Besides it should be in the 70s by then – perfect hiking weather in AZ.
Richelle
$5.00
I would give anything to be there and see this, too! Have fun, PJ! You know you can do this! Take lots of pictures for us.
Bruce Tugwell
$20.00
Logan
$20.00
You can dooooooooooo it!!
Mike Dougherty, Browncoats: Redemption
$20.00
Walk that walk PJ!
Robin Hudson (Robin In Seoul)
$30.00
Good luck, buddy! You know, I really wish I could be there with you, lucki–er unfortunately, I'm in Korea! :D
Kari Haley
$25.00
You can do it PJ – Slow and steady wins the race!
Heather Fagan
$25.00
I think . . . no, I know you're up to this challenge! Go PJ!
KK, Shawn, and Sammy
$18.00
Hike! Hike! Hike! Wish we could be there to cheer you on! We'd make signs! We'd shout loudly! Hike! Hike! Hike!
Diana Dean
$25.00
Do it for the kids.
Denise G.
$5.00
You better get in shape!
Anne
$10.00
You can DOOOOOO IT! Hitch up your muse and drive them legs over the summit and back! Whoot for you and your hiking for KNTR. YOU ROCK the AWESOMESAUCE!
| | | |
| --- | --- | --- |
| Total Raised | $165.00 | $583.00 |