Donation Requests
I grew up in a house where books were scarce. We had a few. Two I still have now and treasure, and when I open them, they take me back in time. The library opened up a new world to me. Sitting on the shelves, spines facing outwards, were portals to worlds I had never imagined. I would lose myself among the high shelves, choosing treasures to take home and then again set off to explore the pages. The library was a gateway for my imagination. Now I could build a house with the books I have all around me. It seems I have built myself a library at home. And the books still whisper and call to me.
–
Jackie Morris, The Snow Leopard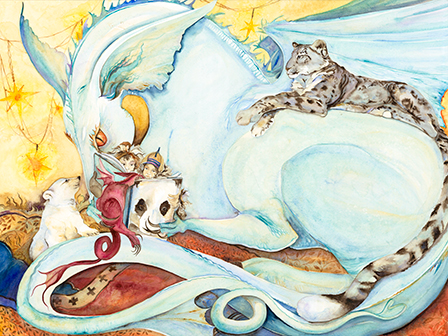 © Jackie Morris
Washington-Parks Academy
Redford, Michigan
We have revamped our library which was a high school library previously. We have converted it to a K-8th grade library, but are in need of books.
---
St. Labre Indian Catholic School
Ashland, Montana
High interest books are always needed to help pique the interest of students who avoid reading. Those students who enjoy reading constantly need new selections (and these students often motivate others who might otherwise read only when it is required of them).

The St. Labre library is the only library in the Ashland community. The reservation communities do not have public libraries, so for many students the school library is their only source of free reading material as well as access to research materials.
---
Rhodes Junior High School
Mesa, Arizona
In previous years, our school literacy programs have been limited to English and Reading classes and book clubs. The book clubs helped increase circulation in the library as well as increased student productivity in Reading classes. Due to severe budget cuts in the 2010/2011 library funding, we have been unable to garner interest in bringing back our bookclubs, other than the manga club, since our library is unable to purchase newer titles that our students are interested in. . . . We are also planning to reinstate one or more of our book clubs which, in previous years, encouraged reading outside the classroom. We hope to use the new titles as our first selections for this club. With the selection of newer titles, we anticipate more interest from our student body.

Mesa school district has cut our library budget in previous years and has done so yet again for the 2010/2011 school year. As a result, we are forced to use what little funds we have to replace current titles that have been circulated beyond repair, leaving little or no funds available for the new titles.
---
Smith Vocational and Agricultural High School
Northampton, Massachusetts
Students at Smith Vocational and Agricultural High School (SVAHS) in Northampton, MA learn by doing. Our students have chosen to attend a Career/ Vocational Technical school, rather than a traditional high school. Often they have not been successful in a traditional academic setting and do not learn in conventional ways. A majority of our students have failed at least one MCAS (Massachusetts Comprehensive Assessment System – a high stakes test) test in Middle School, but all of them pass before graduation at SVAHS. We find ways to interest them and help our "reluctant readers" love to learn. . . . Ideal selections for the school library capitalize on our students' strengths, while recognizing that they are not a traditional high school audience.

SVAHS has a very high number of male students with learning disabilities. They often need a "hook" to draw them into a book and utilize the resources available in the school library. It is therefore extremely important to obtain library materials germane to their life experiences, since those are often what keeps a student attending school and engaged in learning. . . . Books about young people who have overcome serious adversity are particularly popular.
---
Nixon Elementary School
Chicago, Illinois
The books will be used specifically in the Special Education classroom. The majority of the students in the special education program struggle with reading and say that the books in the school library do not interest them; however, those books that do interest them, are usually checked out. The books that they do enjoy reading are graphic novels.

Due to Chicago Public Schools budget cuts, most schools including ours had to hold back on purchasing many items. Unfortunately, those items included books for the children.
---
Child and Family Resources, Inc.
Phoenix, Arizona
Due to the economic recession, private and public funds have been difficult to come by. Trying to cover the basics and absolute necessities like staff salaries and building costs have been the first priority. In order to continue services while cutting costs, the Maricopa Center for Adolescent Parents has reduced its hours of operations while maintaining quality services. In such a difficult environment, it is sadly easy to see books as luxuries that we cannot afford at this time. Any assistance from Kids Need To Read will greatly assist the program with supporting reading among the teen mothers and their children.
---
Standing Rock Youth Services Center
Fort Yates, North Dakota
Children in detention will be offered GED ,online learning and three hours of school each day. The children will have lots of time to participate in passive recreation and books would be an excellent way to spend their time. There is no budget for books at this time and the Youth Services Center is a newly constructed facility serving eight communities on the Standing Rock Indian Reservation.
---
West Clay Elementary School
Cedar Bluff, Mississippi
Our small rural preK-6th grade school is pushing reading as much as possible. The main problem we face is that education is not a priority with our family units. Our county has one of the state's highest unemployment rates and these families have other concerns besides reading and education. . . . The younger readers are excited and itching to read, while our middle schoolers are finding that since they are not good readers, they fear reading. This has got to change.

I have not had a budget for book purchases for several years. I have had to scramble and write grants and be creative to supply new books. The small community we are in has no industry, very few families, and no support for the school at all. Most of our children come from homes with a grandparent and at best a single mom with no education. Reading can change their lives!
---
Loughman Oaks Elementary School
Davenport, Florida
Many of the books in the Media Center at Loughman Oaks are far outdated, more then 15 or 20 years old and falling apart from so many years of use. . . . Additionally, much of our student population is living below the poverty line. . . . With monies being stretched so thin simply to maintain the existing media collection, introducing new titles and keeping our collection up to date is extremely difficult.
---
American YouthWorks Charter School
Austin, Texas
American YouthWorks Charter School is a drop-out recovery program that provides education and job training for Central Texas youth. Most of our students have failed at least one class and many find reading the same materials they were exposed to in the traditional classroom increases boredom and disengages the youth. Finding new resources to bring them back to reading is a priority for our school.
---
Camp Clinton B. Afflerbaugh
Laverne, California
The limited books that we have on our bookshelf are bibles. . . . We would like to obtain books that focus on self esteem building, effects of peer pressure, books that promote healthy thinking and evoke discussion. . . . There are no funds provided for books. We rely on donations from staff members and school personnel. The County of Los Angeles is in a budget deficit. Many programs for the teens have been cut.
---
Dignity Housing West
Oakland, California
James Lee Court Apartments, dba Dignity Housing West Inc, was built in 1992 to house the homeless. It has come a long way in helping the disadvantaged, but the children lack the excitement and adventure learned through reading. The Public Library is located 1mile from our location but making the walk through downtown Oakland is not suited for kids. Their parents are not interested in bringing them and the apartment complex cannot afford to transport them. Maintaining a library on site will be a tremendous help.
---
Columbia Middle School
Sunnyvale, California
I am a special education teacher. The school has a library, but most of the books are too difficult for my students to read. I would like to be able to [acquire] some high-interest books written at 3rd and 4th grade level. The library is more interested in buying books written at middle school grade levels, and there is very little available that my students can read.

I would like to get a classroom set so that my students could read a book as a class like the general education students do. Right now the only classroom books I have are books that were withdrawn from circulation at local libraries; 20 paperbacks donated by a family whose daughters had outgrown them; some pretty sad looking, beaten up books another teacher left behind; and books I [purchased] with my own money, usually second hand. The kids get VERY EXCITED about new books!
---
Girls Incorporated of Omaha
Omaha, Nebraska
Our collection features many gender-specific books with female protagonists because our mission is to "inspire all girls to be strong, smart, and bold," and many multicultural and Black History books because the majority of our girls are African American, but we would gladly accept any books that inspire girls to read!

Nearly all of the materials in our libraries are donated. Most of our books have come from school libraries as they rotate newer materials into their collections. Our current collection is a good start, but not as compelling as we would like. Replacing and supplementing some of the well-worn books in our collection would encourage girls to take books from our shelves more often and develop a love for reading them!

Girls Inc. of Omaha has been serving girls ages 5 to 18 for nearly 35 years with gender-specific, research-based programming—inspiring them to be "strong, smart, and bold." Our two centers are in underserved, economically disadvantaged neighborhoods in north and south Omaha. Seventy-one percent of our members come from households with an annual income of less than $30,000. Ninety-one percent are minorities, only 21% live with both parents and 22% live in foster care.

Because many of our girls come from low-income families that do not have the means (time, money or experience) to supplement what they learn in school, they do not always receive the focused attention they need to succeed. If not encouraged to value learning and literacy when they first enter school, their academic growth may be forever stunted.
---
Camp Glenn Rockey
San Dimas, California
I am a probation officer at a youth probation camp where the reading test scores are so low, I felt I must do something. So I started a program called "Just Read - Knowledge is Power". The minors are assembled and we read together with discussions that take place before and after the readings to cultivate minds and discern their comprehension. I have found increased self confidence, improved reading skills and the appreciation for reading enhanced. The minors are encouraging of each other and have become excited to take part in our reading sessions.

The books will be used to establish a very much needed library at the camp. Since the inception of the program, I have been providing the books [through] my own budget and personal library. There are no funds currently available for the program that is in desperate need of support.
---
Rocky Mountain Youth Academy
La Jara, Colorado
We currently have kids on all levels of literacy learning. Our kids come to us through referrals from probation, division of youth corrections, department of social services, other school districts, area BOCES for the special education students and we try to serve all needs. The kids placed in our school have very limited reading ability and we are always trying to find new books to spark their interest and help them to find a new skill for their spare time out of school, which is when they get into trouble. We currently have about 75 books, which are above some of their reading level and we print out different things for them to read from the internet, but it's just not the same as having their own book.

With all the economic crisis that our country is facing, it is very difficult to find funding support for reading books for our kids. Our kids are very needy and it has been noted by the federal government that we are the 5th poorest county in [the] nation. We serve 14 school districts and our students are well within the 85% illiterate population that your website described. Currently, we have no other funding to support our reading program.
---
Golightly Educational Center
Detroit, Michigan
Detroit Public Schools is in a funding crisis – with misappropriated funds, loss of student population, and distrust of book vendors, there is little money thus, it is difficult to get materials into our schools. We at Golightly dream of having a lender's library where children can take books home and return them for new ones; we also dream of having a large supply of paperback books so we can give them to our children to KEEP them at home to use or share them. We also would love to have magazine and newspaper subscriptions for our children.

The needs of public schools in Detroit have drawn national attention; it saddens me [to] have to write for help, because if the district had been run appropriately in the past, then this request to you would be unnecessary. The future of Detroit children is in grave jeopardy due to a lack of classroom and reading materials. I hope that you can help us in any way that avails you.
---
Carter G. Woodson Public Charter School
Winston Salem, North Carolina
Our School currently serves over 380 K-12 students. School is Title 1 with over 90% of students and families receiving free and reduced lunch. Access to books and technology outside of school is minimal or non-existent. Over 49% of our students are from single-parent homes. The school, operating since 1998 does not have a library and budget restrictions have resulted in inadequate book collection and technology access. The goal is to establish a library that is fully integrated into the curriculum, and has a favourable impact on improving student academic proficiency. Aside from struggling readers, 39% of our students are second language students. We greatly need your help.
---
Mad River Lions Club
Dayton, Ohio
Each year the Mad River Lions Club has a Breakfast with Santa. As [the children] enter, they are greeted by Santa who gives them a free toy or book. They then eat breakfast. This is all free to them. I am on a School board and feel it is important that each child has his own book. We live in a low income community. Any help would be great. The Mad River Lions Club does this as a gift to our community.
---
Jericho City Church of God in Christ
Houston, Texas
We have several members of our church that are either teachers currently employed in the HISD school system or retired educators. We have taken on the responsibility of encouraging reading amongst our children, and so to try and inspire parents to read to their younger children, we need books to be donated for this endeavor. Most of the children's parents do not have discretionary income to purchase books.

Our church is approximately 90% African American, 5% Hispanic, 5% Caucasian. We do have a significant number of single parent homes, and unemployed members. We try to surround all our children with love and inclusiveness so that no child, regardless of their circumstances, feels isolated. When we have church trips for the children, the parents that can pay also pay for other children whose parents cannot. We would appreciate your allotment of books very much.
---
Rowena Chess Elementary School
Pasco, Washington
Currently, the literacy program at Rowena Chess is focusing on building up classroom libraries with quality literature to use for developing their comprehension thinking – without coming out of the teachers' pockets all the time.

Rowena Chess Elementary has purchased new books through the Basic Education Allocation and State and Federal Bilingual Funds, but due to many budget cuts, donations have been very low. Rowena Chess has been counting on a lot of parent support. There are 653 K-5 students and 95% of them are Hispanic and qualify for free reduced lunch based on the federal guidelines. About 70% qualify for bilingual instruction. More of them have a second language at home – often the most difficult to excel.
---
Willow River High School
Willow River, Minnesota
We strive to provide reluctant readers with materials that meet their interests and reading levels. Our literacy program in my classroom is based on reading and writing as often as possible. We don't have a formal literacy program or coordinator, but literacy is our goal, especially in the English department.

Our district is low income. Many students do not have books to read. Our library is small and insufficiently funded. We read in English class on a daily basis. This is important to us.
---
Valley Family Medicine
Renton, Washington
Our Family Medicine clinic sees a large percentage of underserved families, many who are at/or below the poverty level or without health insurance. Many of these patients are young children who [are] present for their annual "well-child" physical exams and immunizations. Many speak other languages.

We will use new books for every well-child exam to encourage literacy. Used books will be distributed as well for siblings or for sick visits. We are making a reading area for volunteers from our hospital to read to kids in the waiting room, as well as an area that promotes literacy, libraries, fitness and turning off the TV.
---
African Refuge
Staten Island, New York
The African Refuge (AR) After School program is relatively new (Winter 08). The part-time Youth Coordinator(YC) is developing curriculum so that the literacy program is in-line with the local schools' objectives. At this point, kids are primarily participating in "read-alouds" and quiet independent reading at the Youth Center. Since the children in the program rarely have a quiet, comfortable space to read, this space has been incredibly important to them. When we are able to incorporate a library into the Youth Center, we hope to expand the literacy program significantly.

If the book donation is allocated, we will be able to complete our "library corner" project (which currently has funding for shelving, comfortable chairs and other furnishings, but no books) where the children can read level-appropriate books independently and with program staff and volunteers. Now, the YC buys books and children bring school books.
---
Sam Garcia Western Avenue Library
Avondale, Arizona
We actively encourage children's reading from an early age. Because we are so close to schools, we often work with them to form a cohesive net that surrounds the children with literature. From there, we constantly have programs and story time with themes the children can get involved in. We actively engage the children through contests and inquiries about what they are currently reading.

We recently lost our book budget and are struggling to provide our younger patrons with the best literature possible. With summer approaching, we worry that our children and teens will lose grad level competency because they won't be reading over the summer. Providing them with fresh material will enable them to maintain their competency and increase knowledge.
---
Maritime Industries Academy #431
Baltimore, Maryland
We are a comprehensive neighborhood high school in Baltimore City. We serve approximately 600 students in grades 9-12. Students regularly use the library for research and independent reading materials. We have an active book club in partnership with a local business with a focus on high school males that are "high risk".

Our library does not have the materials to meet the needs of our "reluctant readers". We would love a donation of graphic novels, current biographies, realistic fiction, and books for our students that are currently reading below grade level. Our students come from an environment of poverty, where reading is not always valued. We are committed to changing the educational climate for our students by creating access to high interest reading materials
---
Children First Academy
Tempe, Arizona and Phoenix, Arizona
I am the accounts payable supervisor for 15 Arizona charter schools. Our schools have been very successful in the state, but we've been stretched to the limit in the book department. This past Summer, the state of Arizona and Maricopa County decided to close the Thomas J. Pappas schools for homeless children. Our superintendent, Ron Neil, refused to let that happen. After a long negotiating process, we took on the 2 campuses under our charter. We've change the names to Children First Academy, with a location in Phoenix and a location in Tempe. These schools get wonderful donations for clothing and food, but books are not considered a "necessity". I think books are a necessity. These children have a chance to change their futures. If these kids learn to love to read, they will learn to love to learn. There will be no stopping them.
---
Paragon Science Academy
Chandler, Arizona
We are a new K-8 not for profit charter school, (about 260 students) with a solid emphasis on language arts, math, science and technology. There is no budget for a library and our committee has been working hard to establish a library. We have found used bookcases and desks for pennies on the dollar and have also just conducted our first Scholastic book fair. Before we can house books we need bookcases in place and a simple system of cataloging. We feel that every child needs to discover the joy and delight of a library and books! We have volunteers ready to staff the library, read to the younger grades, and become a resource for the older grades. We serve all socio-economic and ethnic groups without bias; the school is structured and has high academic goals. Kids need to read, and our school needs to feed this need! We know parents will be willing to donate some gently used books, and we are scouting used bookstores as well. We just need a little help, books, donations, grants? Do you have any suggestions that might help us?
---
B. F. Norton Elementary School
Cumberland, Rhode Island
We started trying to improve our library because we discovered that our library was only 40% stocked with books. And out of that 40%, many books are in awful shape. They are worn, the bindings are shot, they are taped and glued together, some are so old they date back to 1962. When my child brings home a book, it is very rarely that I don't have to repair the book in some way. The mentality is that it's better to have books in poor condition than to have less books/less categories. We have worked hard to bring books into our library, but it doesn't seem to make a dent. Demographically, this community is a struggling one. A lot of families qualify for free or reduced lunch. There are limited funds to purchase new books and books are costly, as you know. We understand that Literacy is the key to a successful life. With that being said, our goal is to provide our students with the tools they need to be successful. We have some students that only see this library. We are also trying to create an environment in which our students can get excited about. Our library is very boring to look at. We are working on ideas to spruce it up. Our library is very dated. The books are not on a computer system; all books are still hand-processed. There are areas of the library shelving units that are empty. The books are opened to make it look like more. B. F. Norton has some great programs to promote reading and is very big on literacy. We do have RIF, which donates a book to each of our students; we also have a family reading club, which students can take used books that have been donated (if they are members) and are rewarded for minutes read; we celebrate Read Across America and we do have 2 Scholastic Book Fairs as well as Usborne Books, which we take our profit in books. We ran a read-o-thon last year to try and raise money for our library. We purchased $750.00 in books from those monies. I am not sure if you can help us in any way, but we thought we would ask. Thank you so much for your time.
---
Eagleville Bicentennial Public Library
Eagleville, Tennessee
This is a one room, ran-by-one-person library in the small community of Eagleville, Tennessee. Two years ago this little library joined the Linebaugh Library System as a branch library. The library's yearly book budget is very small and I am very limited to the amount of new material that can be purchased. I became branch supervisor July 1, 2008 and it became obvious to me almost immediately that this small community has a lot of voracious readers that have read through the library's collection of books. This little library not only serves the Eagleville community, it serves surrounding communities such as Unionville, Chapel Hill, and Rockvale that do not have a library.
---
North Public Health Clinic
Seattle, Washington
I see patients at North Public Health Clinic (NPHC) in Seattle, Washington with pediatric residents training at Seattle Childrens Hospital. NPHC serves a low-income and very ethnically diverse population, many who speak English as a second language. We have been seeing patients at this location since 7/2008. I am applying to be a Reach Out and Read site which requires proof of the financial sustainability of such a program. NPHC (part of King County Public Health) is currently experiencing unprecedented budget cuts at a time when our services are more in need than anytime in the recent past.
---
The New City School
Long Beach, California
Hi, the company I work offers a class called ELP (Emerging Leaders Program). In this class we learn different things on becoming leaders. We are currently working on servant leadership. We have been split up into 4 groups and each group must do something for our community or charity, etc. My group has chosen New City School in Long Beach, CA to help. This small private school is in need of numerous items, including books. What do I need to do to get a donation of children's books for this school. Please advise. Thank you!
---
Rockin' Readers Book Club, Sonoran Science Academy
Tucson, Arizona
Hello, I am a parent who is starting an after school book club at my child's school in Tucson, AZ. We have 16 members from the 2nd and 3rd grades signed up to participate in the Rockin Readers Book Club and we could use some help building our club library. Sonoran Science Academy is a non profit K-12 charter school that is working to build a library for its lower elementary student body. The administration is very dedicated to doing all they can to generate excitement and increased focus to its language arts programs which is why my proposal for this book club was readily accepted. Our first club meeting will be held on September 23, 2008 and we are still working to build a decent collection of books. I have bought some used books online and also plan to make use of our local libraries as well, however it is my dream and goal to build a wonderful club selection full of variety that will help me to inspire and encourage my members. It is my hope that your group is able to lend us a hand in getting started. Thanking you in advance for your consideration of this request. PS What a fantastic organization this is, thank you for playing such an important role in the lives of children.
---
Wyoming Youth ChalleNGe Program
Guernsey, Wyoming
Gentlemen,

I am a Cadre Team Leader with the Wyoming Youth ChalleNGe program, we are a quasi Military program that provides kids 16-19 a second chance at a better life. We have currently graduated up to 200 kids with a GED and a better chance in life. Our Program has an excellent English Teacher, Angie Shultz, the library she has gathered for our program has been done through donations and garage sales literally. But as always we could use more assistance. Currently we have close to a 1000 or more used books within our shelves and seriously strive to gain more. It is difficult in the state of Wyoming as even the Library have trouble getting funding. All Funding for the Program goes towards primary issues before we can look at further books and when we do get funds its very limited. Our reading program has become a huge success with many of our young Cadets. Many of the Cadets come to us with a reading level of a 2nd grader, by the time they leave our 5 month program they can and do read at least 5 grade levels higher. Its often a task to get them to sleep at night due to the fact they want to finish the next chapter.

Would you please consider our little library for some assistance?
Thank you kindly.
---
Alpine Crest Elementary School and Dawn School
Chattanooga, Tennessee
I do not personally have a child in school, nor have I seen the libraries of the schools I'm going to mention in several years. I grew up in Red Bank, TN and while I only attended White Oak Elementary, I know that local schools all had the same issues. Alpine Crest Elementary and Red Bank Elementary do most of the teaching for children in my area, and I know several children that attend those schools. Their interest in reading is extremely low, and anything that could help to bolster them would be wonderful for this community. Tennessee has so little money in schools, and the effect is devastating on the younger children than it is for older children who have been given the gift of reading. My parents read to me from the time I was born, and when I was three, I was reading on my own. I remember so many children that didn't have parents like mine, and all they really needed was some inspiration.
---
Borinquen Bilingual School and Sport Development Center
Aguadilla, Puerto Rico
After having the wonderful experience of living in United States where kids are exposed to literacy; now living back in my homeland Puerto Rico, I have to admit that my students are suffering the odd cirscumstances of not having the adequate books for their reading levels. My name is Brenda Rodriguez librarian of a blilingual school in the western part of the Island. Our school name is Borinquen Bilingual School located in Aguadilla, Puerto Rico. We are an elementary school with almost 600 hundred kids. We started the library around 2 years ago with the kindness of our parents donations. But there still a lot to do with our students community. Unfortunately, these kids does not have enough supply of books to satisfy and encourage their needs. I will appreciate with of my heart if you consider this a formal donation request. Please feel free to communicate with me at your leisure. If you need more info please email me….

Thanks a lot for your time.
---
Greensburg High School
Greensburg, Kansas
Happy Summer. Just had a thought. Has anyone mentioned to KNTR about Greensburg, KS? In May of 2007, 95% of the city was destroyed by an F5 tornado. They are rebuilding the city as a green city. I have no idea what school or library books are needed, but I thought I might throw it out there. I do not even know if the school has been rebuilt yet.
---
River Road - Santa Clara Volunteer Library
Eugene, Oregon
The RRSC Volunteer Library was started because of a drastic library shortage in Lane County, Oregon. Lane County, which is about the size of the state of Connecticut, has no county-wide library system–and people who live outside the city limits of places like Eugene, including the residents of the Santa Clara and River Road areas, must pay punitive amounts in order to get a city library card. The RRSC Volunteer Library is a grassroots organization, an effort by and for Eugene residents to create a city-quality library for those who live outside official city limits. (Submitted anonymously.)
---
R. O. Gibson Middle School
Las Vegas, Nevada
I would give my eye teeth for books!!! I'd prefer to give you money, however.

My school is entitled to Title 1 funds, but there isn't enough to go around, so we don't receive that supplemental funding. We are 80% free lunch. We're also 80% second language, with a rate of 30% of those new to the country every year. Whatever you can do to help me help students … I'm thrilled.

All Blessings upon you!
---
Moreno Valley Public Library
Moreno Valley, California
We are a small library servicing a large growing community in Southern California. We are gearing up for our summer reading program "Catch the reading bug" and any help would be greatly appreciated!
---
Potter Junior High School
Fallbrook, California
Hello! I teach seventh and eighth grade struggling readers and English Learners in Fallbrook, CA, and our library is in desperate need of an update! We need books that are relevant to our students' lives, with characters that they can identify with. I have heard about your series and your mission. I know that with your help, I will be able to tap into my students' innate curiosity and they will begin to reach their potential as the readers, writers and thinkers of tomorrow! Thank you!
---
New Brunswick High School
New Brunswick, New Jersey
The Library at New Brunswick High School serves approximately 1200 students in grades 9-12. We have a 100% minority population, the majority being African-American and Latino. Due to years of neglect there is no age-appropriate YA fiction to reflect their lives and interests. We also have a large population of special needs students with no materials to reflect their reading levels.
---
Sutro Elementary School
San Francisco, California
My school library is very small and outdated. We don't have the budget to buy many books every year, but we make do with what parents donate. The kids in my school are voracious readers and love books of all kinds. I would love to see them with an up to date library, and perhaps some more of the classics, without the torn covers that have been loved to pieces.
---
Cathedral School
Portland, Maine
I am the librarian at Cathedral School, a private Catholic School in Portland, Maine. We serve 200 students from Pre-Kindergarten to 8th grade. Cathedral School is not a "typical" private school. Our students are from a variety of ethnic and socioeconomic backgrounds, and just under 50% are non-Caucasian. We have students who are first generation immigrants from the Sudan, Ethiopia, Russia, Vietnam, Bulgaria and the Congo. Although all of our students speak English when they come to Cathedral, many of them cannot read or write in English.

This year, my position as a full-time librarian/computer teacher was created. I am the first paid librarian that the school has ever had; previously we relied on volunteers. I am excited about being at the school full-time; this will allow me to work one-on-one with many of our struggling readers. We have both native English speakers and ESL speakers who fall into that category, and I am constantly looking for new books for them, that will interest and challenge them. I believe that The Softwire: Virus on Orbis 1 will appeal to many of our older reluctant and struggling readers. I would really appreciate your consideration for a copy of The Softwire, I think that it would be a great benefit for our library, and would encourage some of our older students to read.
---
Eudora West Elementary School
Eudora Middle School
Eudora, Kansas
Hello! I am the librarian for the two elementary schools in Eudora,KS. We do not have a book budget this year because the board decided to make the school wireless and give all the faculty laptops. Now, I'm all for technology, but hello? We don't have an arts program and now I have a few pennies to last me all year between TWO schools. Even though our town is growing by leaps and bounds (we're a Kansas City bedroom community) we still don't have a public library either. I'm working on the city council about the need for one, but that's another story. Thank you for all that you do!
---
Euclid Public Library
Cleveland, Ohio
My library is in Euclid, OH. We have a fairly large YA [Young Adult] section but we don't have a lot in the way of YA Sci-Fi. My partner has contacted the library via email and the YA librarian is more than excited with being part of the project.
---
Glenburn Public School
Glenburn, North Dakota
I'm the new librarian at Glenburn Public School in Glenburn, North Dakota. We have a beautiful school library with great kids. Thank you for reaching out to students through reading. It's a skill that improves them mind, body, and soul!
---
Oakland City-Columbia Township Public Library
Oakland City, Indiana
I live in a small town in southern Indiana. It's a rural area with not much in the way of industry, so it's a depressed area. There's not much of a tax base, so our library doesn't have a lot of money. Our librarian is young and enthusiastic, as are the staff, but the staff consists of 2 part-time clerks. I do volunteer work there and donate books, but I actually work part-time at a library in a town 13 miles away. Anything you could do for the Oakland City-Columbia Township Public Library in Oakland City, Indiana, would be deeply appreciated.
---
Anniston High School
Anniston, Alabama
Anniston High School library books were destroyed by fire and is in dire need of restocking the library. All of the books were destroyed.
---
Tenth Street Elementary School
Anniston, Alabama
I am the media specialist at Tenth Street Elementary in Anniston, Alabama. We are a Title 1 school that serves mostly low income students. Over 90% of the students receive free lunch. The school is in desperate need of new books to encourage the students to read. It breaks my heart to see the empty shelves in my library. Your help would be greatly appreciated.
---
Dick Scobee Elementary School
Auburn, Washington
First of all, thank you for doing this work! I teach second grade at Dick Scobee Elementary (named after the commander of the Challenger shuttle) in Auburn, Washington. Our library budget has been cut down to $6 per student this year. This is down from $25 only a few years ago, and we have been told not to expect it to get better. This budget includes books and schoolwide technology. We have fewer than 500 students in our school. We have done book fairs and asked for donations, and now our teachers are actually donating books (especially with Harry Potter coming out this summer!) so that we can stretch our dollars as far as possible. Our school is in a very low socio-economic area, so our school library is where most of our students are able to get reading material outside of the classroom. Any little bit helps. Knowing that there are people such as yourselves who use their positions to actually help others, particularly our kids makes the frustration ebb ever so slightly! Thank you for taking the time to read about my little school, and best wishes to you and yours.
To submit a request for a donation, please visit our Donation Requests page.