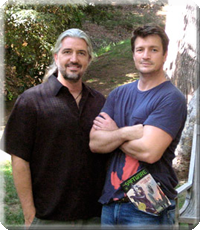 When two friends get together and discuss something they are very passionate about, good things usually happen. The Kids Need to Read project was born from such a discussion. Inspired by the enormous amount of energy coming from their fans, Nathan and PJ established a program where profits could be used to purchase books for libraries in need. Money should never be used as an excuse when it comes to the education of our children.
We want to thank you personally and assure you that your support will put a book in the hands of a child.

Go Ninjas! Click here to visit our community.