The History of Kids Need to Read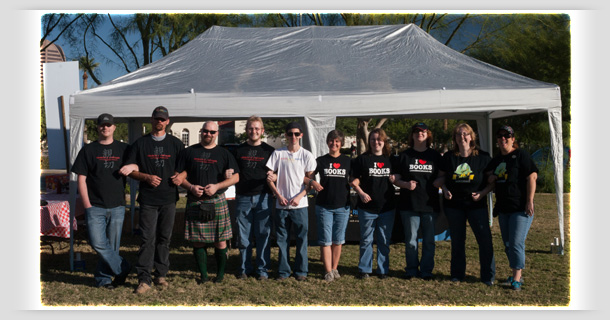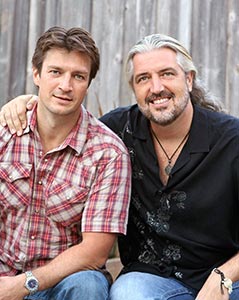 Kids Need to Read was founded as a nonprofit corporation in 2008 by PJ Haarsma, Denise Gary, and Nathan Fillion. It was awarded 501(c)(3) tax exempt status in September of that year. The mission of the foundation was based on the work of a 2007 project of the same name. Traveling from school to school in 2006 to promote the first book in his young adult science fiction series, Haarsma repeatedly encountered kids who were hungry to read, and teachers who were scraping together personal funds to purchase books for their students.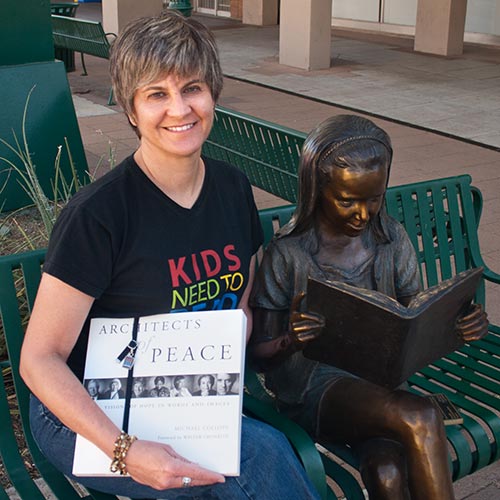 As children followed Haarsma out to the parking lot begging for books, the novice author was heartbroken. What had happened to school budgets that resulted in a dearth of books in school libraries? What could be done to combat this indifference? The idea for Kids Need to Read was born.
Haarsma collaborated with his friend, Nathan Fillion, star of Firefly, Serenity, Desperate Housewives, and Castle, to form the idea into a project. He then enlisted the help of Denise Gary, head of NathanNation, a guerilla marketing group organized to promote Fillion's movies and television programs.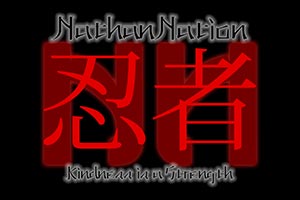 The group's motto was Kindness is a Strength, taken from a longer Fillion quote, and they were happy to join in the cause of childhood literacy with Haarsma and Fillion. At the end of 2007, Haarsma gave his blessing to Gary to organize the project into a nonprofit foundation. With the help of Debbie Brown and Kristen Klein, Gary began laying the groundwork for the creation of a federally recognized charity that would work to improve the lives of children by bringing literacy back to the forefront of the United States education system. The foundation was legally set up in January of 2008, incorporated as a nonprofit the following May, and was granted 501(c)(3) status in September of that same year. NathanNation was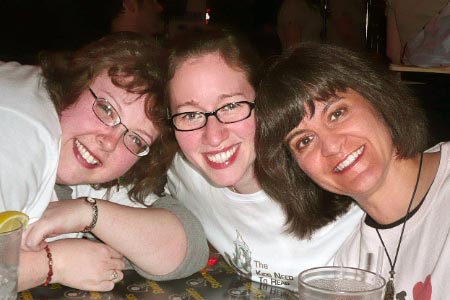 disbanded and the members that remained became the backbone of Kids Need to Read, often supported by the charitable donations of Nathan Fillion fans and the Browncoats, a community of Firefly and Serenity fans. Haarsma continued to be an active part of the organization, with Fillion contributing his name and autographs to help the fledgling foundation grow. The new organization was given the legal name of The Kids Need to Read Foundation to separate the new nonprofit's corporate identity from that of the project. The name reverted back to Kids Need to Read after the foundation had firmly established itself two years later.
No one could have predicted the crash in the economy that came in tandem with the organization's founding. The need for assistance from Kids Need to Read's program immediately compounded. To help speed up the foundation's growth, Gary made the decision to shift the organization from an online charity dependent exclusively upon donations and auction earnings, to a physical entity capable of conducting community fundraising events. Sensing that Phoenix, Arizona would give the foundation its best chance of survival, Gary moved from Texas to Arizona in January of 2009. The Phoenix area had exhibited an unusually high level of support for the organization, due in part to the local popularity of Haarsma, as well as a strong awareness of a decline in children's literacy within the area. The move proved to be fortuitous not only for excellent community participation, but because of fruitful partnerships with Phoenix Comicon, Bookmans Entertainment Exchange, Changing Hands Bookstore, and Phoenix Book Company. Significant physical donations from Komikwerks, LLC. and Highlights for Children, Inc. also gave the organization an early boost.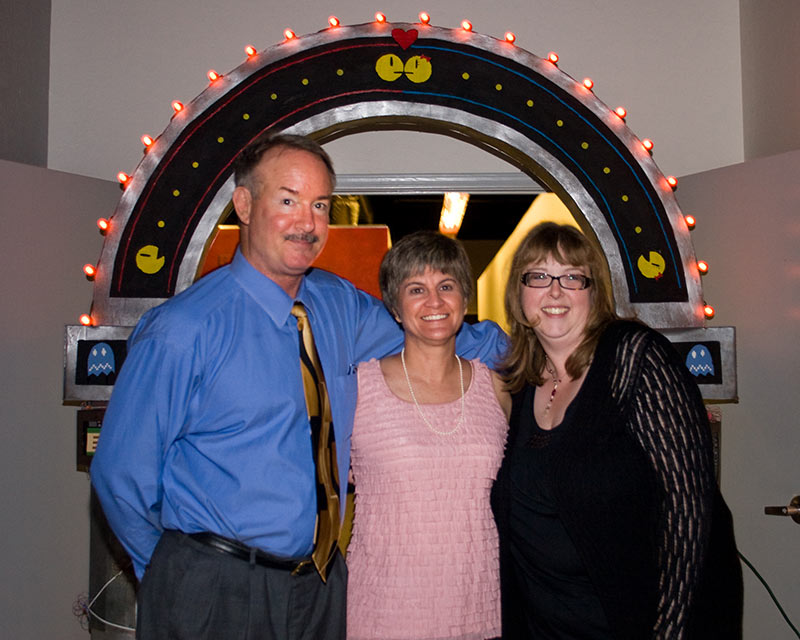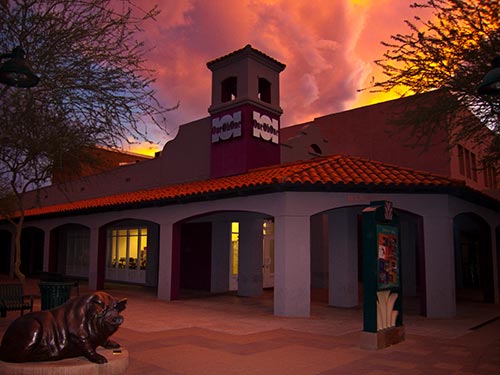 In addition to Gary, Debbie Brown's consistent dedication to the foundation contributed considerably to its success. Kristen Klein also played a large role in the early development of the organization, until her work was curtailed by the addition of a baby to her family. The appointment of James Blasingame to Chairman of the Board in late 2009 attracted other literary luminaries to the Board of Directors, including KaaVonia Hinton-Johnson and Teri Lesesne. The addition of such notable experts in the field of children's and young adult literature helped raise the profile of Kids Need to Read among literary colleagues. Brown joined Gary in Arizona in August 2010 to further enable the foundation's forward momentum and a permanent office was immediately established in the city of Mesa. Browncoat groups and fans of Fillion continue to be a major force for the organization, raising thousands of dollars every year in unique fundraising activities. PJ Haarsma and Nathan Fillion continue to participate as members of the Kids Need to Read Advisory Council.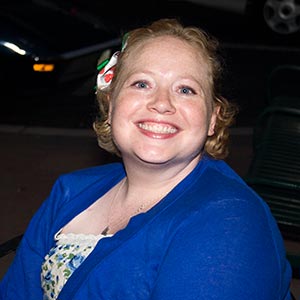 Children's book buyer Faith Hochhalter was tapped to create a high interest, fiction book list when the nonprofit corporation was forming in 2008. Nonfiction titles and graphic novels were added in 2009. Because the foundation dedicated itself to serving children of all ages, it became the only national literacy organization to regularly provide books to middle readers and adolescents. It began to receive submissions not only from impoverished schools and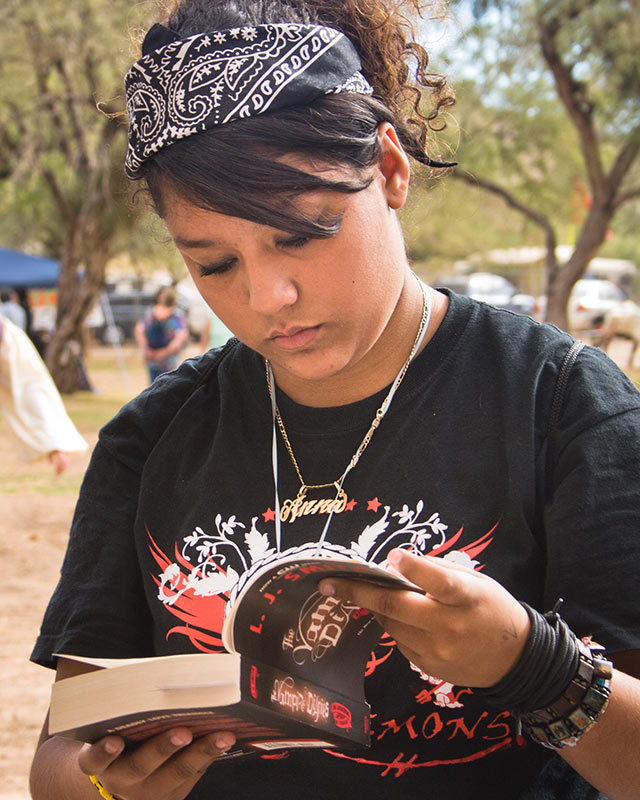 libraries, but from juvenile offender facilities, urban afterschool programs, special education classes, dropout recovery programs, and other specialized programs for older, illiterate children. Gary soon felt an urgent duty to more specifically address the needs of children living under oppressive conditions. A Literature Advisory Committee was formed in early 2010, chaired by Hochhalter, to assure that each book on the donation list contained relatable subject matter, as well as positive, inspirational outcomes. Today, the growing book list contains over 350 titles. Books are carefully selected from that list according to the specific needs of each literacy program the foundation assists, with the goal of transforming lives.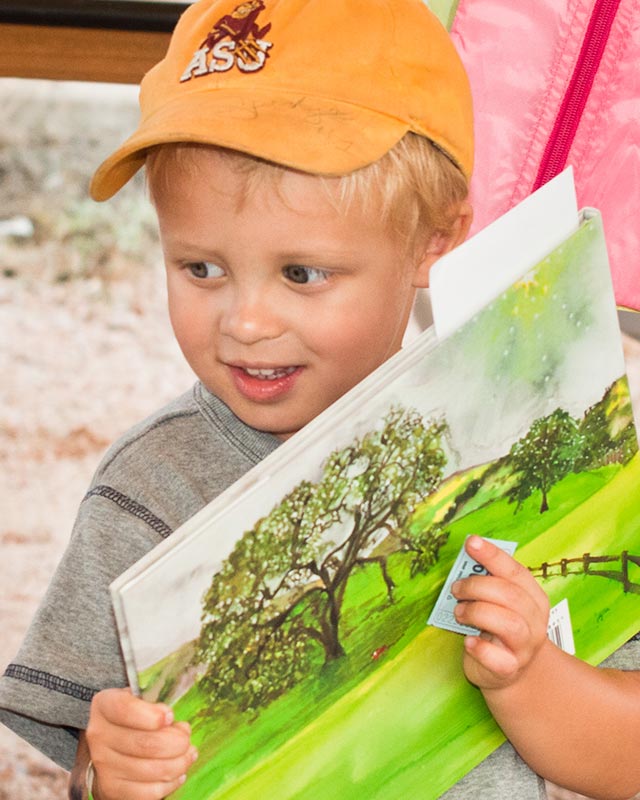 Evolving from a small project giving out one title to each recipient and quickly transforming into a nonprofit foundation providing thousands of books to literacy programs desperate for reading material, Kids Need to Read persists in helping kids discover the joy of reading, while also providing books that encourage a profound sense of self-respect and social responsibility. Knowing that the specter of illiteracy continues to haunt our nation, particularly among disadvantaged citizens, the foundation's staff and board of directors are dedicated to opening up a world of endless possibilities to children through literacy.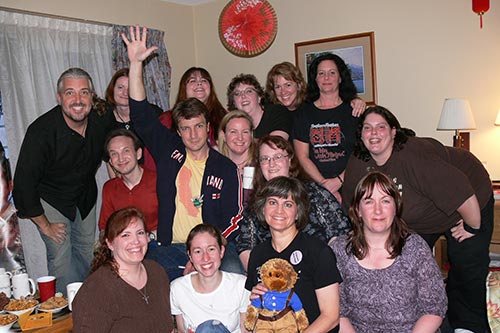 KNTR Ninja Party at Serenity LA Convention 2007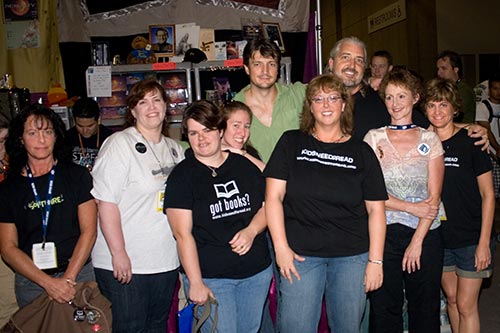 San Diego Comic-Con 2008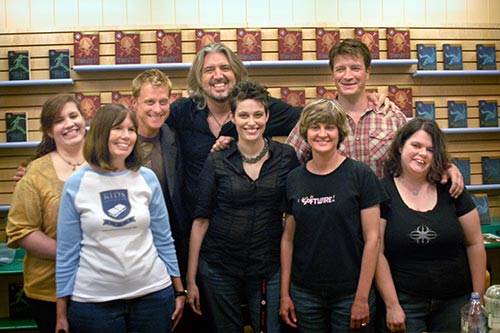 Wormhole Pirates Fundraiser 2009
Phoenix Comicon 2010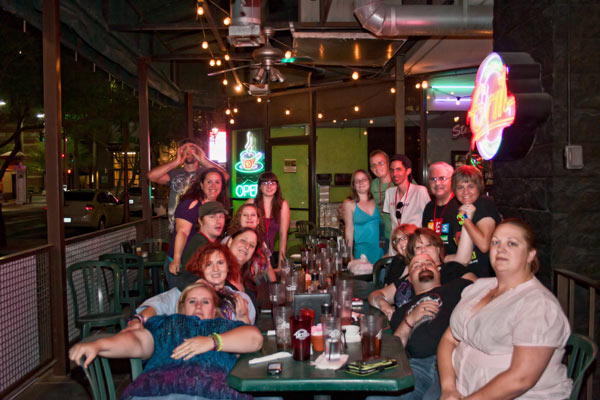 Phoenix Comicon 2011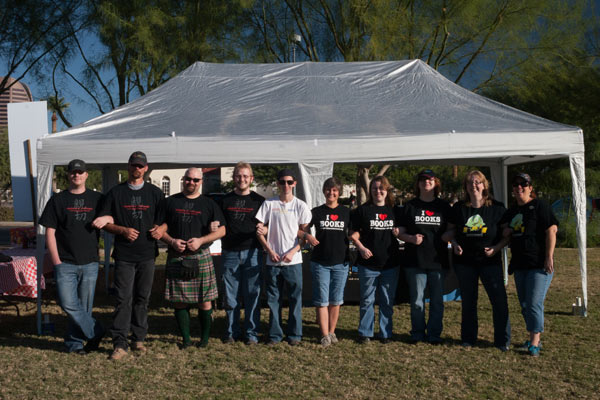 Phoenix Library Friends 35th Anniversary Literacy Festival 2012