Upcoming Events
I love how stories let me slip out of my own life and slip into a different one. Through books, I've lived a thousand lives instead of just my own. When I meet new people, even if their lives are very different from mine, I try to imagine how life feels to them. Reading stories is great practice at putting yourself in other people's shoes, which is essential for making good friends … and maybe even creating world peace!

—

Laura Resau, Red Glass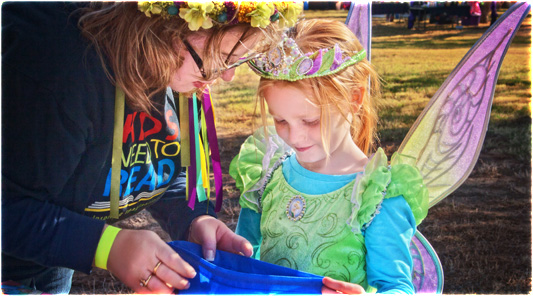 Please come join Kids Need to Read at any of our events. We are always busy making new plans and there are several groups putting on their own fundraisers on our behalf.
---
---
September 1, 2014–August 31, 2015
Fry's Community Rewards Program
Fry's Food Stores
Here is an easy way for shoppers at Fry's Food Stores to support Kids Need to Read! Simply register your VIP card online and then select Kids Need to Read as your Community Rewards preference (takes mere moments)—KNTR will receive a percentage of $2,000,000 over the next year, September 1, 2014–August 31, 2015. Simply put, it costs participants nothing other than the time it takes to register their VIP cards in support of Kids Need to Read. The more shoppers support KNTR through their VIP purchases, the higher the percentage of funds the organization will receive. Click here for registration information. Your support is so valuable and deeply appreciated!
---
Now through December 24, 2014
---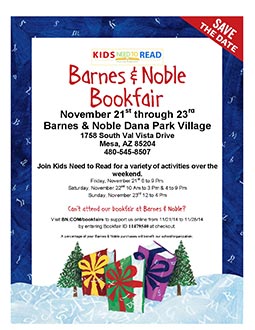 November 21–23, 2014
Barnes & Noble Bookfair
Dana Park Village
1758 South Val Vista Drive
Mesa, AZ 85204
480-545-8507
Begin your season of giving with a variety of activities from Kids Need to Read. A portion of your purchases during the bookfair will be donated to Kids Need to Read by Barnes & Noble. All you have to do is bring the flyer or mention our bookfair at the register!
Print Barnes & Noble Dana Park Village Voucher


Download
Can't make it into the store? Visit Barnes & Noble bookfairs to support us online from 11/21/14 to 11/28/14 by entering Bookfair ID 11479540 at checkout. Please consider us during your Black Friday shopping online!
---
December 12–14, 2014
Phoenix Comicon Fan Fest
University of Phoenix Stadium
Tickets are available here.
Phoenix Comicon is the largest pop-culture event of the Southwest, so much so that Phoenix Comicon is adding a second event kicking off this December!
We invite you to join Kids Need to Read at Fan Fest. Fan Fest is a pop culture convention featuring actors, top comic book writers and artists, programming, and features exhibitors, vendors and costuming for those fans who can't get enough of Phoenix Comicon.
The Kids Need to Read booth will feature unique, high-quality art prints and many other literacy-related items for sale. We are proud to partner with Barnes & Noble Booksellers at Desert Ridge Marketplace for their annual holiday book drive. They will have books available in the Kids Need to Read booth for Fan Fest attendees to contribute to the drive in support of Title 1 schools in the Paradise Unified School District. Help us put books in the hands of well-deserving kids!