Upcoming Events
I love how stories let me slip out of my own life and slip into a different one. Through books, I've lived a thousand lives instead of just my own. When I meet new people, even if their lives are very different from mine, I try to imagine how life feels to them. Reading stories is great practice at putting yourself in other people's shoes, which is essential for making good friends … and maybe even creating world peace!

—

Laura Resau, Red Glass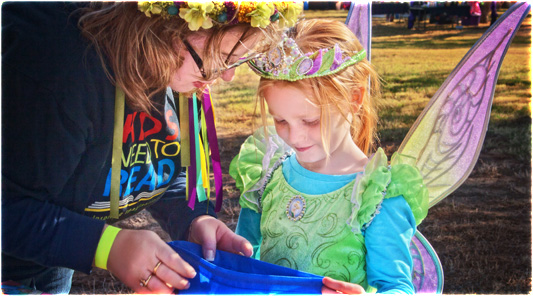 Please come join Kids Need to Read at any of our events. We are always busy making new plans and there are several groups putting on their own fundraisers on our behalf.
---
June 2-5, 2016
Phoenix Comicon 2016
Phoenix Convention Center and Hyatt Regency Phoenix
Kids Need to Read has a fantastic line-up of events at Phoenix Comicon 2016, thanks to the convention's staff and volunteers, as well as the sponsors, artists, cosplayers, authors and KNTR volunteers who contribute their time and talents to support our organization! We are thrilled to partner with Arizona Coyotes on this year's KNTR Build-a-Book program with Steven Riley! From children's activities to nightly dances and creative fundraisers benefiting Kids Need to Read, there is something for everyone to enjoy. Please come join us for a geektacular weekend!
KNTR Booth 1078
Star Wars Blast-a-Trooper, Hosted by 501st Legion Dune Sea Garrison
Friday through Sunday, 1:30 PM–3:30 PM
Star Wars Neighborhood, North, Hall of Heroes

KNTR Charity Texas Hold'em Tournament, Hosted by Lupine Entertainment
Friday, 7:00 PM (7 hours)
Location: Hyatt Phoenix
Our annual No Limit Texas Hold 'Em Celebrity Charity Tournament benefits Kids Need to Read. $10 Donation required. Unlimited chip replenish for first hour for additional donation. Optional add on after first hour. Cash only.

Drinks with Authors
Saturday, 6:00 PM–9:00 PM
Location: Phoenix Convention Center, North, Room 120
Join our author guests for a glass or two in an informal setting. There will be door prizes and other giveaways from our participating publishers.

One Party to Rule Them All, hosted by Blue Ribbon Army Benefiting Kids Need to Read
Saturday, 10:00 PM
Location: Phoenix Convention Center, North, Room 120CD
Looking for a magical place to party with your Phoenix Comicon friends after hours? Want to make new friends in a fantasy themed ballroom with special drinks, music, dancing, and surprises? This is an 18+ event taking place at the Phoenix Convention Center. Tickets are $20 and available on our website under Events & Parties. All proceeds benefit our friends at Kids Need To Read!

Youth Fashion Show
Sunday, 12:00 Noon
Location: Room West, 212ABC
This fashion show for youth is a non-competitive fun time for kids twelve and under to show off their costumes. Denise Gary of Kids Need to Read hosts.
---
September 1, 2015–August 31, 2016
Fry's Community Rewards Program
Fry's Food Stores
Here is an easy way for shoppers at Fry's Food Stores to support Kids Need to Read! Simply register your VIP card online and then select Kids Need to Read as your Community Rewards preference (takes mere moments)—KNTR will receive a percentage of $2,000,000 over the next year, September 1, 2015–August 31, 2016. Simply put, it costs participants nothing other than the time it takes to register their VIP cards in support of Kids Need to Read. The more shoppers support KNTR through their VIP purchases, the higher the percentage of funds the organization will receive. Click here for registration information. Your support is so valuable and deeply appreciated!
---
---