Upcoming Events
I love how stories let me slip out of my own life and slip into a different one. Through books, I've lived a thousand lives instead of just my own. When I meet new people, even if their lives are very different from mine, I try to imagine how life feels to them. Reading stories is great practice at putting yourself in other people's shoes, which is essential for making good friends … and maybe even creating world peace!

—

Laura Resau, Red Glass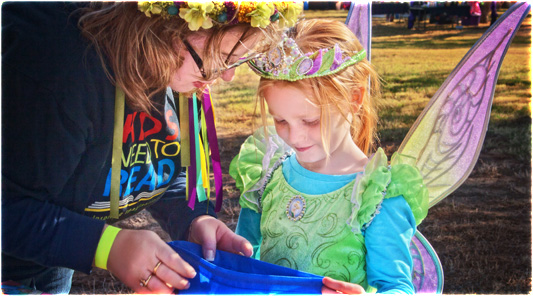 Please come join Kids Need to Read at any of our events. We are always busy making new plans and there are several groups putting on their own fundraisers on our behalf.
---
---
December 4-6, 2015
Phoenix Comicon Fan Fest
University of Phoenix Stadium
Glendale, Arizona
Phoenix Comicon Fan Fest is returning to University of Phoenix Stadium! Discover your inner geek from the folks who bring the pop-culture event of the summer to us in winter!
Fan Fest is a pop culture convention featuring actors, top comic book writers and artists, programming, and features exhibitors, vendors and costuming for those fans who canít get enough of Phoenix Comicon. The Kids Need to Read booth will feature unique, high-quality art prints, our insanely popular Danger signs and many other literacy-related items for sale. We will hand out free Highlights magazines, host geek ornament raffles, and more. Help us put books in the hands of well-deserving kids.
Buy your membership here.

Saturday, December 5, 2015
The Blue Ribbon Army Presents: Fan Fest After Dark
Circa Ballroom, Glendale Renaissance Hotel
Glendale, Arizona
9:00 PM till Midnight
Party with us as The Blue Ribbon Army Presents: Fan Fest After Dark! If you love all the fun that Fan Fest has to offer and want to keep that excitement going into the wee hours of the night join us at this winter-themed party for socializing, dancing, or just classic people watching at the Glendale Renaissance Hotel. There will be DJs, adult beverages, and a few other fun tricks that we have up our sleeves. All proceeds benefit Kids Need to Read and tickets can be purchased here.
18+ event.
---
September 1, 2015–August 31, 2016
Fry's Community Rewards Program
Fry's Food Stores
Here is an easy way for shoppers at Fry's Food Stores to support Kids Need to Read! Simply register your VIP card online and then select Kids Need to Read as your Community Rewards preference (takes mere moments)—KNTR will receive a percentage of $2,000,000 over the next year, September 1, 2015–August 31, 2016. Simply put, it costs participants nothing other than the time it takes to register their VIP cards in support of Kids Need to Read. The more shoppers support KNTR through their VIP purchases, the higher the percentage of funds the organization will receive. Click here for registration information. Your support is so valuable and deeply appreciated!
---
---