Upcoming Events
I love how stories let me slip out of my own life and slip into a different one. Through books, I've lived a thousand lives instead of just my own. When I meet new people, even if their lives are very different from mine, I try to imagine how life feels to them. Reading stories is great practice at putting yourself in other people's shoes, which is essential for making good friends … and maybe even creating world peace!

—

Laura Resau, Red Glass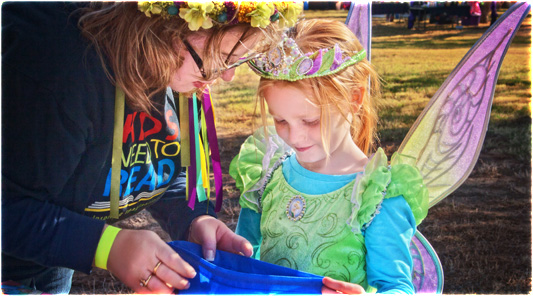 Please come join Kids Need to Read at any of our events. We are always busy making new plans and there are several groups putting on their own fundraisers on our behalf.
---
---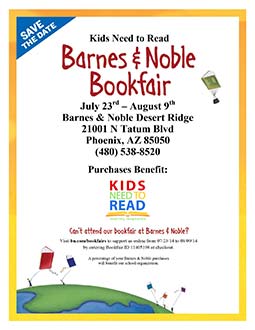 July 23–August 9, 2014
Barnes & Noble Desert Ridge Bookfair
21001 N Tatum Blvd
Phoenix, AZ 85050
(480) 538-8520
Our friends at Barnes & Noble Desert Ridge are holding a GIANT bookfair for Kids Need to Read! Come into the store and present the attached voucher to the cashier, and a portion of your entire sale will go to support KNTR. You must give them the voucher or tell them that you want to support our bookfair when you make your purchase. Can't make it into the store? Visit Barnes & Noble bookfairs to support us online from 07/23/14 to 08/09/14 by entering Bookfair ID 11405198 at checkout.
Print Barnes & Noble Discount Coupon


Download
There will also be some very special events that Kids Need to Read will be attending! We will be in the store on:
July 23rd: Batman Day 11:00 AM to 3:00 PM
July 26th: DC Day 11:00 AM to 3:00 PM
August 1st: Frozen Day 6:00 PM to 8:00 PM
August 2nd: Marvel Day 11:00 AM to 3:00 PM
August 8th: Teenage Mutant Ninja Turtle Day 4:00 PM to 7:00 PM
Hope you can come out, enjoy the fun, and help support Kids Need to Read!