Upcoming Events
I love how stories let me slip out of my own life and slip into a different one. Through books, I've lived a thousand lives instead of just my own. When I meet new people, even if their lives are very different from mine, I try to imagine how life feels to them. Reading stories is great practice at putting yourself in other people's shoes, which is essential for making good friends … and maybe even creating world peace!

—

Laura Resau, Red Glass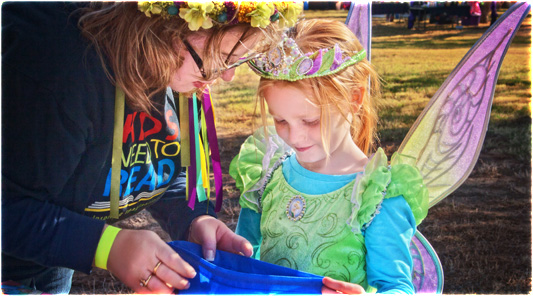 Please come join Kids Need to Read at any of our events. We are always busy making new plans and there are several groups putting on their own fundraisers on our behalf.
---
February 20, 2016
Storyfest: Star Stories
Burton Barr Central Library
1221 N. Central Avenue, Phoenix, Arizona
10:00 AM–1:00 PM
Join Kids Need to Read, Bookmans, Phoenix Public Library and Friends of the Phoenix Public Library for a free family event to celebrate reading! While we provide free Highlights magazines, you may also enjoy space-themed activities and crafts, including a Star Wars LEGO® Free Build room. Meet community partners from around Arizona and take home cool giveaways. First 500 families will receive a free tote bag stuffed with books.
---
February 27–28, 2016
Arizona Renaissance Festival Pirate Invasion Book Drive
12601 East Highway 60
Gold Canyon, Arizona
10:00 AM–6:00 PM
Join Kids Need to Read in celebrating 28 years with the Arizona Renaissance Festival by bringing a new children's book to the Kids Need to Read booth outside the festival entrance! In return, we will give you a free children's admission ticket (ages 5-12) with paid adult admission. We will hand out Highlights magazines, as well as practice our argghhh!
Be aware of the Children's Pirate Costume Contest at 2:00 PM on Saturday, February 27th, in the Royal Pavillion. Be prepared by practicing your swagger and telling us your pirate name! The Adult (ages 13 & up) Pirate Costume Contest will be held on Sunday, February 28th, in the Royal Pavilion. What makes you the best pirate captain?
---
Friday, March 4th through Sunday, March 6th
Wild Wild West Steampunk Convention 5
Old Tucson Movie Studios
201 S. Kinney Rd.
Tucson, AZ 85735
Get your gear together for a multicultural airship expedition. Kids Need to Read is the featured charity of WWWC 5. We will be on-site all weekend selling our beautiful art prints, literary danger signs, and more! Raffles benefiting Kids Need to Read.
It's time for world travelers of all cultures to congregate in Tucson for this year's Wild Wild West Steampunk Convention! Meet fan favorites, see stunning steampunk designs, and have an amazing weekend in an authentic wild west town. This airship departs soon—don't get left behind!
---
Saturday, March 5, 2016
Family Fest 16, sponsored by Family SPOT Resource Center
Christ's Greenfield Lutheran School
425 S Greenfield Rd
Gilbert, AZ 85234
10:00 AM–2:00 PM
Walk on the wild side of literacy with Kids Need to Read. Families are invited to a free jungle-themed literacy fair sponsored by Family SPOT Resource Center. We will be on hand to provide free books and Highlights magzines for the children in attendance and provide information to caregivers about reading together!
---
Monday, March 21, 2016
Kids Need to Read Night with the Phoenix Suns
Talking Stick Resort Arena
201 East Jefferson Street
Phoenix, Arizona
Phoenix Suns vs. Memphis Grizzlies
7:00 PM
Please join us for a fun night out with the Phoenix Suns. Proceeds from each ticket will benefit Kids Need to Read, along with the 50/50 raffle for the night. We will have a costume contest during the game. Best costume will receive Suns and KNTR swag, so come dressed for fun! It is the KNTR way!
To purchase tickets in support of Kids Need to Read, please visit groupmatics.events and enter access code "KNTR". Deadline to purchase tickets: February 19, 2016 at 11:59 PM MST.
---
Now through March 27, 2016
Steaks for Good

Purchase juicy Omaha Steaks on behalf of Kids Need to Read through Steaks for Good. Ten percent of the proceeds will be given to KNTR. There are three ways to purchase:
* Online: www.steaksforgood.com/KidsNeedToRead
* By Phone: 1-800-994-7455 (Be sure to specify Kids Need to Read to the Omaha Steaks representative.)
* In Store: Omaha Steaks has over 80 retail locations nationwide. Use their Store Locator to find a store that is close and specify Kids Need to Read as the beneficiary at purchase.
---
September 1, 2015–August 31, 2016
Fry's Community Rewards Program
Fry's Food Stores
Here is an easy way for shoppers at Fry's Food Stores to support Kids Need to Read! Simply register your VIP card online and then select Kids Need to Read as your Community Rewards preference (takes mere moments)—KNTR will receive a percentage of $2,000,000 over the next year, September 1, 2015–August 31, 2016. Simply put, it costs participants nothing other than the time it takes to register their VIP cards in support of Kids Need to Read. The more shoppers support KNTR through their VIP purchases, the higher the percentage of funds the organization will receive. Click here for registration information. Your support is so valuable and deeply appreciated!
---
---