Inspiring Imagination through the Magic of Books
There are few pleasures in the world as great to me as reading. As a child, I read voraciously, and without limits

—

I read about Greek Mythology, and biographies of great men and women, and Japanese Folk Tales, and about Lost Treasures of the Incas, and Fairy Tales, all with equal fervor. I traveled to other worlds with Charles Wallace Murray, and grew up alongside Taran Wanderer. I learned about Robot Detectives, and Magic Swords, and Time Machines. But most importantly, I learned that we live in a world without limits. And that's the most important lesson of all.

—

James A. Owen, The Chronicles of the Imaginarium Geographica series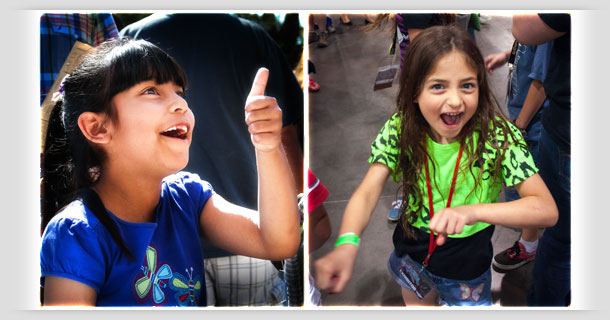 Patricia Lanchester
Property Manager, Dignity Housing West, Oakland, California
December 19, 2010
Thank you for the overwhelming outreach to our children and organization. This is the greatest effort extended to our program since the idea of a library was first conceived. We are blessed to have your donation and look forward to digging in. The coming year looks exciting.
---
Amanda Bell
Library Media Specialist, Loughman Oaks Elementary School, Davenport, Florida
December 17, 2010
I am overcome with emotion and blown away by your generous response! I feel incredibly fortunate that Karen contacted me a few months ago about the prospect of receiving a grant to help our students. I had no idea it would multiply into such a unique opportunity to touch so many children's lives. Nearly every day a child tells me they need a new book from the media center because there are none at home for them to read. This is hard for me to comprehend as I was fortunate to have a library of my own rich with literature when I was a child. My goal is to make that a reality for the students here at Loughman Oaks. Thank you for sharing in this vision and believing that it can happen. Your kindness will put smiles on the faces of hundreds of students now!
---
Rhiannon, 6 years old
Kid Hiker, KNTR HIKRZ Jamboree, Mesa, Arizona
November 6, 2010
It was a hot day. We went hiking. It was fun. You are fun KNTR.
---
Diane Fernicio
Site Administrator, Children First Academy, Tempe, Arizona
June 29, 2010
Thank you for another great presentation! On behalf of Children First Academy of Tempe, we sincerely thank you for bringing the comic book program to our school. The kids loved the Star Wars Stormtroopers. They were a hit. The comic book artists were also enjoyable. They are very talented.

Additionally, I want to thank you for the two subscriptions to Highlights magazine. The students will enjoy reading each issue. It was my favorite magazine when I was young.

We are honored to have the support of such a caring community to help us educate and care for our students and their families. Please think of our students again next year. We'd love to have you back.
---
Elizabeth Birru
French Teacher, Golightly Educational Center, Detroit, Michigan
February 22, 2010
What an incredible blessing! We are thrilled to receive these books for our students. I knew, Denise, when we spoke, that you clearly understand how the burden of illiteracy particularly haunts the lives of poor, minority children. That you are actively pursuing a partner school for Golightly – that you continue to supply books to our children – is fundamental proof that you understand how each and every book has the potential to change their lives.

Thank you most sincerely for putting your words into action on behalf of our children.
---
Katherine Roddy
Special Education Teacher, Columbia Middle School, Sunnyvale, California
February 16, 2010
We have received the books! I let them open them in the last half hour of school yesterday. They were SO EXCITED. Even I was surprised. We made a big ceremony out of cutting the tape on the boxes. There was something of a feeding frenzy which I had to step into. I allowed each student to take one book home. [Kids Need to Read], you should have seen their eyes SHINING! I wish you could have heard them talking about the books, deciding which to read first. This is the biggest thing ever. Even the kids who tell me they don't like to read were excited, because these are books they actually can read. The girls have gone crazy for Babymouse. The biggest Babymouse fan is Amanda, who has told me 100 times this year that she does not like reading because it's so boring. I went to the Scholastic website and downloaded a coloring page of Babymouse for Amanda. Today, when I gave it to her, Jennifer and Jocelyn demanded copies, too.

The boys are big on the Bone series. Usually, if they are given books at school they hide them because they're too babyish and the other students will tease them. But Bone is very cool and grown-up looking.

I have one student in particular I'm very worried about. His family is very gang connected. His older brother, one of my former students, is in jail. Jose actually tried to sneak one of the High Noon Raven Mystery series books out of the box while I wasn't looking. Today he told me all about how he liked those books, they were pretty good. He's going to read the rest. He was practically swaggering. I acted very impressed and amazed that he could read the whole book in one day. He's got to read the rest of them now, he told me.

As I speak, the kids have just finished a math test. At their insistence, I'm allowing them to dig in to the books. The girls are sitting around the round table, delving into the Babymouse books.

As you can imagine, my students are used to being at the end of the line when it comes to resources or consideration. They get photocopies instead of new workbooks, and they use whatever science tools or math manipulatives their teachers can scrape up. Several of them have told me, point blank, that the school doesn't care about them. They love your books because they can actually read them, but also because the books are proof that an official organization believes they are worthy of a set of brand new materials. They are so proud.
---
Jessica
Student, Girls Incorporated of Omaha, Omaha, Nebraska
February 10, 2010
When asked if she found a book she would like to read in the Kids Need to Read shipment, Jessica said, "I found an entire series."
---
Roberta Wilhelm
Executive Director, Girls Incorporated of Omaha, Omaha, Nebraska
January 27, 2010
We are thrilled about receiving both the books and Highlights magazines. Rest assured we will milk every book for all it's worth. At Girls Inc., every book pretty much fulfills its Karmic destiny. We use books in our programs, for free time reading, and to loan to girls and their families. When I began working at Girls Inc. six years ago, our print materials were quite pitiful. Our "library" was a room with broken furniture and boxes and boxes of cast off books (likes sets of encyclopedias from the 1940's and cast off, moldy text books). Through the generosity of individuals and organizations like Kids Need to Read we have been able to accumulate books and magazines that the girls actually want to read.

While we accept donations of any books that are age appropriate, the kind of books you describe – books with messages of hope, courage, compassion, kindness, friendship, love, tolerance and perseverance – are the kinds of books we treasure and know the girls will, too.
---
Sarah Moddrell
4th Grade /Writing Support Teacher, Rowena Chess Elementary School, Pasco, Washington
January 27, 2010
The books are so wonderful! I can't even express this enough! The kids will truly love them as they are of multiple genres and popular titles that they are already excited about. I'm sure the students will be as thrilled as they were with the Highlights Magazines that they received during our Snuggle Up and Read Day! Again, thank you so much for all you do for kids!
---
Stacey Holland
Director, Rocky Mountain Youth Academy, La Jara, Colorado
January 19, 2010
Thank you so much for the books! The kids are enjoying them very much! We will use them for many years!!
---
Elizabeth Birru
French Teacher, Golightly Educational Center, Detroit, Michigan
January 20, 2010
May I first wish you and yours a well-deserved and very best of New Years. I must also say that you and your organization have certainly set our students off to a fabulous New Year's start by so generously offering them an absolutely amazing collection of novels. The variety of topic and difficulty of these novels well suit the diverse population of our readers. The HIGHLIGHTS magazines are also phenomenal for our elementary aged students. All of the children are ecstatic! And, we, as the adults, are "whoopin' it up, too!" Needless to say, we are very appreciative and want you to know that these literary materials will be lovingly and effectively used.

[Kids Need to Read], please keep us in mind for whatever jewels of literacy you may encounter down the line and may I thank you yet again for making available to our children such wonderful literature. Wishing you only the very best.
Testimonials Archives